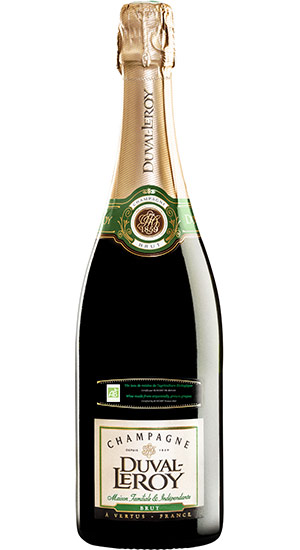 Development, enrichment and the protection of the environment is part of the Duval-Leroy ethic. Our Cuvee Brut*, an "ideological" wine, comes from vines cultivated with respect for nature. This cuvee has obtained the Ecocert organic certification, meeting standards and specifications at an international level.
The winemaking process, partially using vats and oak barrels, preserves the grapes' initial characteristics and at the same time develops high levels of concentration and a strong identity, while at the same time giving rise to a refined wine whose bouquet releases a pure, crystalline expression. This unctuous wine has a green-gold colour, illuminated by slow, fine bubbles which leave a remarkable tingling sensation in the mouth.
To choose Duval-Leroy's Cuvée Brut* is to enjoy a wine produced from organic viticulture, and to benefit from the quality and expertise of a great Maison de Champagne.
*Wine produced from organically cultivated grapes, certified by Ecocert – FR-BIO-01
Grape Varieties
Chardonnay and Pinot Noir produced through organic viticulture
How to enjoy it
A wine for all occasions, its origins associate it with traditional local cuisine