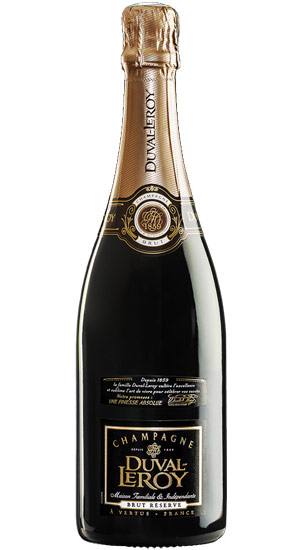 Since 1859, Duval-Leroy family has been perfecting the quality of its non-vintage Brut Reserve, balancing passion with an aesthetic sensibility.
It is in this product that one can feel the unique power and character which marks out a top-of-the-range champagne. Consistency, expertise and a creative spirit ensure a success which needs no further demonstration.
The Maison Duval-Leroy revels in the art of blending Pinots and Chardonnays. Enriched with around fifteen crus and a generous quantity of reserve wines, Duval-Leroy Brut Reserve confirms its complexity and is recognised for its consistency.
Providing a perfect balance between finesse and power, it draws out flavours of dark chocolate, cinnamon and roasted yellow figs, expressing its subtle, melt-in-the-mouth vinosity. It was the only Champagne recognised by Wine Spectator magazine in its Top 100 classification for 2008.
Grape Varieties
Pinot Noir, Meunier, Chardonnay
Bottle
size
20cl, 37.5cl, 75cl, 150cl, 300cl, 900cl
How to enjoy it
Serving temperature between 8°C and 10°C.
Ideal as an aperitif wine, it also provides a subtle accompaniment to white meats.