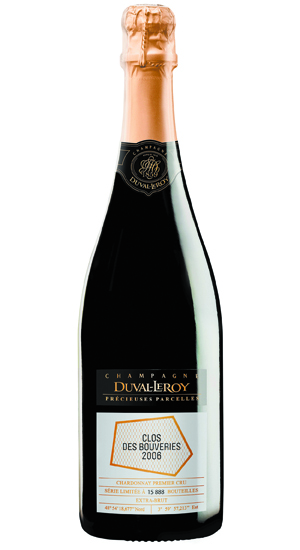 Precious Parcel Clos des Bouveries
Vintage 2006
L'alliance d'un terroir et d'un savoir-faire
Clos des Bouveries, overlooking the village of Vertus, is an ancient plot of land belonging to the Duval-Leroy family, which enjoys a mid-slope position facing due east. This situation provides exceptio- nal conditions producing one of the earliest growth cycles in the area, and enriching the fruits with an intense concentration of flavour, giving a most favourable effect on the senses.
A pioneer in the sustainable development of vineyards, the Great House of Duval-Leroy creates the concept of the oeno-climatic cuvee. The Clos des Bouveries cuvee is a vintage champagne every year. The wine reflects the impact of the climate on Champagne and shows the effect of its changes in the medium and long term.
This champagne reflects the terroir, the climate and the know-how of the Chef de Cave. From a single plot and from a single grape variety, Clos des Bouveries is partially fermented in oak barrels to contribute fine woody notes and partially fermented in stainless steel tanks for mineral purity.
Grape Varieties
100% Chardonnay
How to enjoy it
Serve the 2005 Vintage at 7°C allows its mineral strenght to be enjoyed at its best