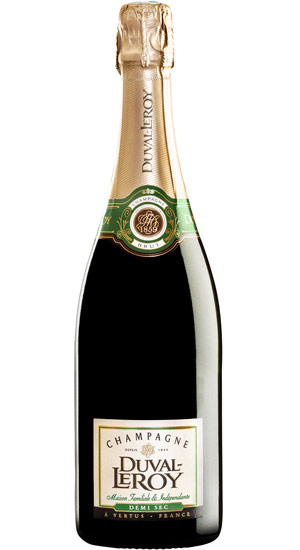 A surprise for wine lovers
To appreciate this wine, Duval-Leroy invites you to enter into a intimate reverie. Its colour, with tints from gold to pearl, announces an outstanding refined champagne. This cuvee reveals complete harmonies and scintillating resonance, its fine bubbles interweaving and taking you with them.
You can breathe in the voluptuous, captivating sweetness of our Demi-Sec, derived 90% from Pinots, with the balance from Chardonnay. You will love to lose yourself in the delicacy of its taste, which, gentle on the mouth, offers up intensive palette of toasty, brioche flavours, rounded quince and hazel.
Duval-Leroy Demi-Sec's vinosity will complement your sweet desserts, in particular pastries, bringing to them richness and depth. Certain people will be daring enough to use culinary contrast to bring this Champagne to its height, accompanying it with a parmesan millefeuille or with a strawberry and balsamic vinegar sauce.
Grape Varieties
Pinot Noir, Chardonnay, Meunier
How to enjoy it
Rich and generous, this wine goes perfectly with desserts and pastries